My BMW 1200 GS Adventure was giving me some problem the last 3 week before the trip; the brake failure light come on and the BMW garage book a check only 4 days before going away. I also was very near my 1200 service but I did not have the money to do it and decided to take the risk and do the service when I come back.
Planning the trip was easy - starting with AutoRoute 2006 just to the border of Hungary and then using www.viamichelin.com to plan from one hotel to the other. OK. The plan was to ride to Budapest meet Anna there; she will take a flight to Budapest and we both stay the first night there; from Budapest to the Hungarian Romania border town Gyula, spend 6 nights in Romania and go back to Budapest or near for the last night before dropping Anna at Budapest Airport and continue alone back home (Brighton). All was going well. Anna booked the hotel in Budapest I booked my crossing from Dover to Dunkerque and back. I started to plan the way into Romania. I have already been there on the way to Turkey 2 years ago and I knew where to go and what to see again; Gyula to Sighisoara – the road is just wonderful and I wanted to do it again this time with Anna. The rest was unknown to me so I looked at some of the bike tours in Romania and mark Turda, Sibiu, Hunedoara and Arad as point to be in. Then I found out that AutoRoute 2007 is out and it includes Hungary and Romania in it so I got it just to find out that you can plan the route but many of the small road was not showing there. I had general map of the area and I was intending on buying good map in Romania – so it wasn't a problem. The trip started to take shape when I booked the hotel in Gyula and Turda, in Sighisoara I wanted to stay in the same hotel that I been before (Sighisoara Hotel) and we decided to stay 2 nights there. Anna found a lot of interesting places around Sibiu and again the decision made to stay 2 nights there as well. The last night in Romania will be Arad and from there along the river Tisza to Szonlok Hungary for the last night with Anna.
Before we left Anna prepared 'Trip Time table' so the children can call us at the hotels.
Leaving home on the bike (some call it motorcycle or motorbike. I call it MY BIKE) for a long trip is always so exciting. I am going over and over in my head what to take with me and the route I am going to go. Thinking of the 1068 miles to the hotel in Budapest from my home - this is on the main motorways in Europe.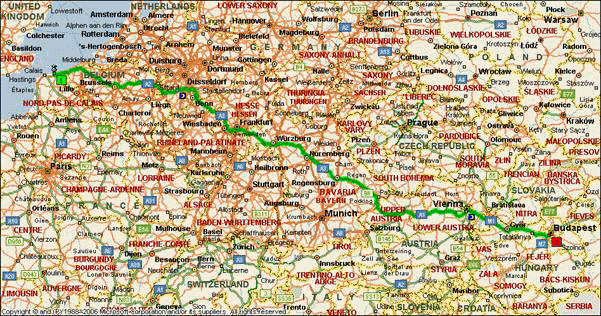 (You can see the route by clicking here or on the picture)
I had two nights to spend on the way and I have already been via this root and did not worry much about hotels that are available almost in every petrol station along the route.
Getting up @ 6am, so very excited, filled petrol the night before and packed my stuff, so just an easy ride to Dover. I am right on time with no rush to Dover and one hour and 20 min crossing to Dunkerque. Start the road from Dunkerque @ 1:30pm European time. France, Belgium and Holland passing quick and easy with one refuel, Germany is a big country and long, long way to go. Stopping for the night after Cologne at the petrol station at Siesburg, the motel is open all night and you pay and get the key in the petrol station, the hotel in on the hill near the station. Diner at the station and as I am not eating a lot of things, macaroni cheese and cheese sandwich was ok for me.
Waking up @ 6am feeling fresh and ready to do Germany and Austria. It's a long road and it starts to be busier at 8am and near every town. 3 refilling and resting for 20 min every one hour.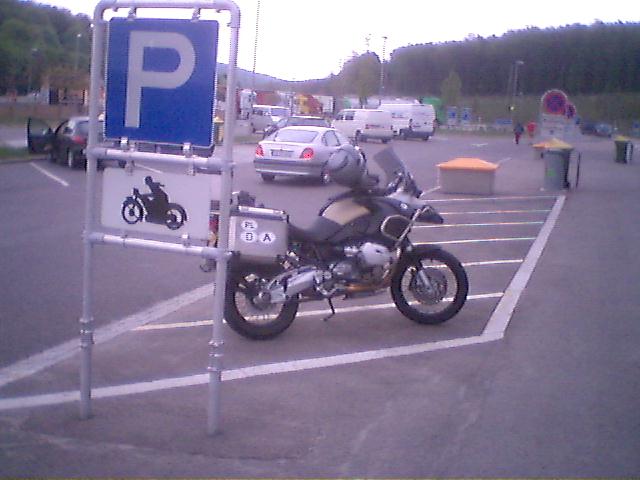 Parking on the Austria motorway
Stopping for the night after Vienna about 50 km from the Hungarian border. Again petrol station hotel a bit expensive but a good one. Just 200km to Budapest can do it in 2 – 3 hours so no rush in the morning.
Day 1 for Anna (day 3 for Tal)
Arriving at the hotel in Budapest @ 10am; the room is not ready and I am going for 45 min walk in the area.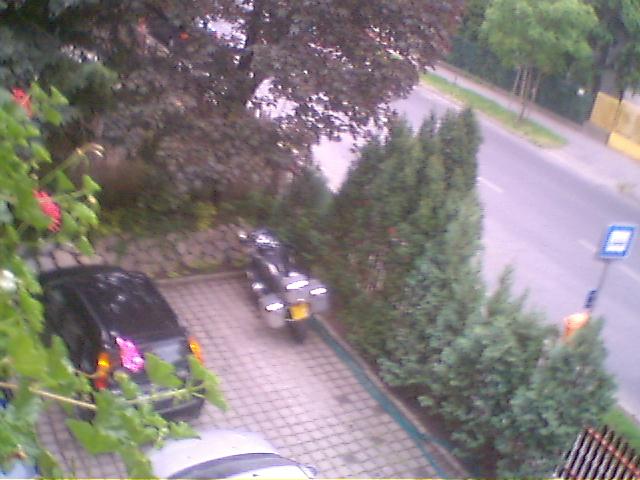 My Bike from the hotel room
Back @ the hotel and in the room – good one with balcony and I am going for my walk in Budapest, lunch at the main road and back to the hotel for my afternoon nap. 6pm and I am awake and waiting for Anna … she is here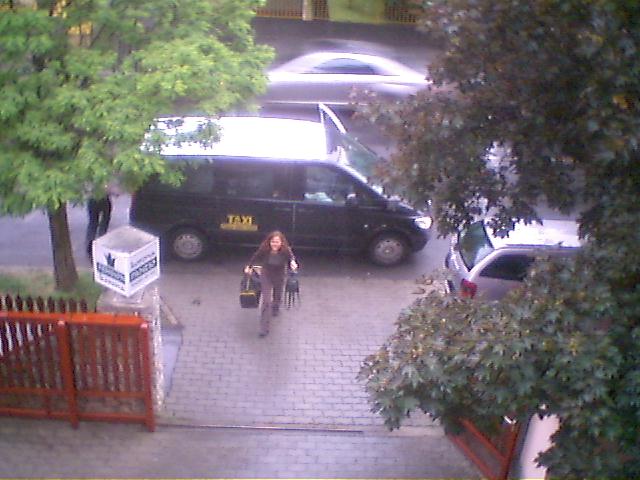 Anna is here
7pm - Going into town
Budapest is a really nice, clean, relaxed city with something to do for everyone. We had only one evening to explore it but it made such a nice impression. The city is nicely laid, with the great river in the middle and quite a few bridges to cross and with Gellert Hill dominating the city. Lots of historical buildings. People are friendly and relaxed, the language out of this world – how did it find its way to the middle of Europe surrounded by Slavonic and German languages I have not idea – have to do some research on Google on return home. Had a nice dinner in by the river Greek Restaurant. No problem to be vegetarian and speaking English in Hungary.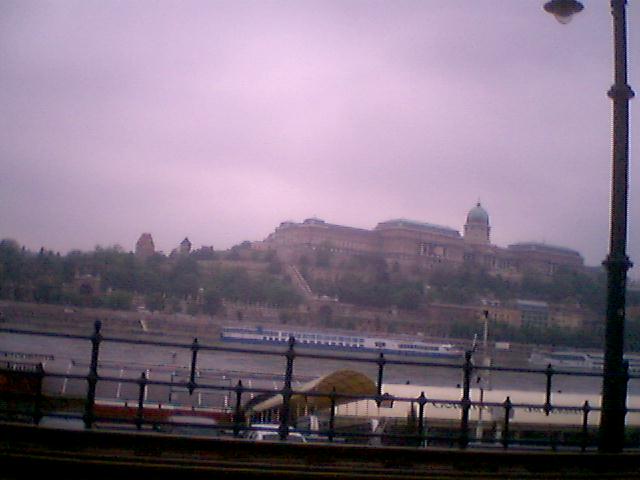 Budapest
Day 2 for Anna (day 4 for Tal)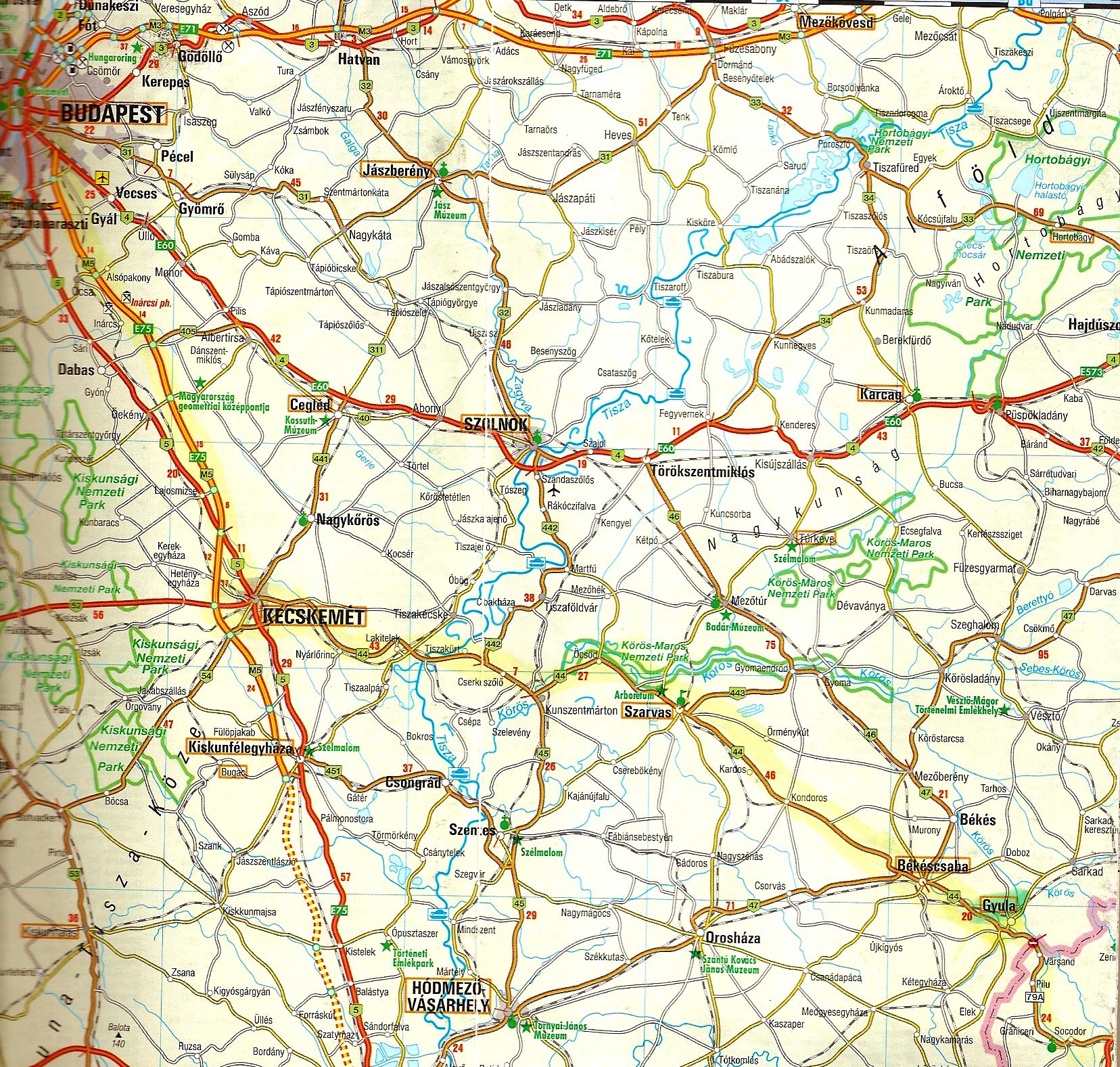 Budapest to Gyula
Easy ride about 180km, first motorway and then nice small road crossing the Tisza River.
Getting to the hotel in Gyula @ 4pm.
Erkel hotel in Gyula
Hotel Erkel – very 'communist style' building. Wondered around the town – it's a holiday town, nice and green with lots of spas', little canal and some sort of citadel in the middle. Not many places to eat and we ended up eating in the hotel – looked like no other guests there – they managed to put together some sort of vegetarian meal.
Day 3 for Anna (day 5 for Tal)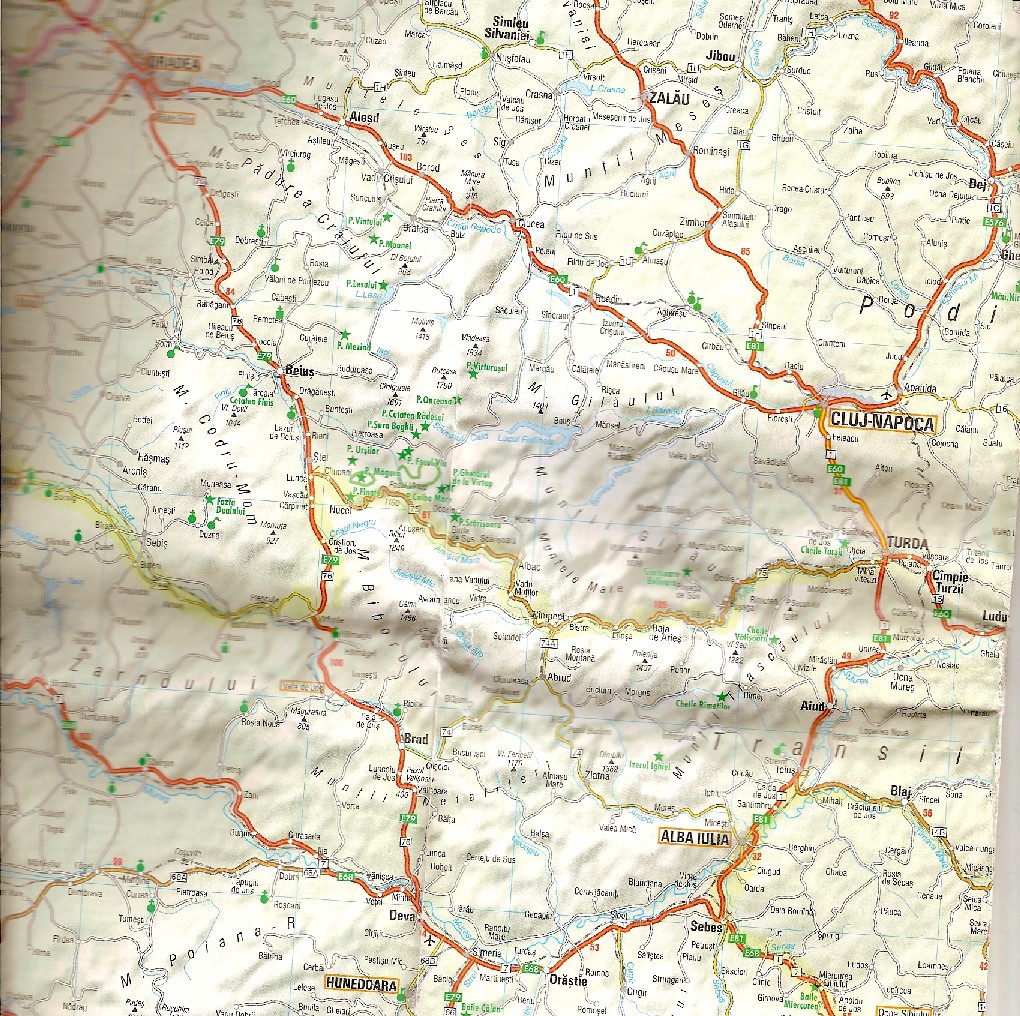 Gyula to Turda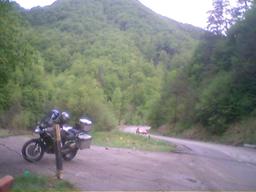 What a road!!!
See all the pictures - Gyula to Turda
Anna: First, crossing the border. Immediately, afterwards it is a different country. And not only the roads which at the moment are in very poor state to put it mildly. The countryside looks like from a few decades back, with traditional villages, white washed houses, water wells, hens and gees wandering about. Not many fields tended – I think, before, this was collective farming – you can see disused huge farms and machinery rusting by the road – now the farmers have no money to buy any kind of farming equipment and work hard on small plots mostly with basic implements. The main way of moving around is cart and horse – they look a bit like old gipsy carts with their round, canvass roofs. Man wear hats and women scarves.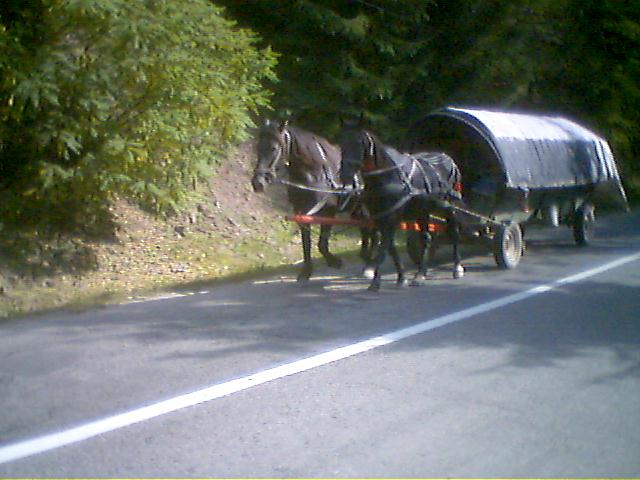 Tal: Still think this is the nicest road I have ever been on, this is my second time and exciting to the fact that Anna is with me and I can share some of the wonderful places with her.
It is raining for a bit and blocking our view from the mountains but nothing can spoil this beautiful road.
Including hearing for the first time the Cuckoo bird.
Anna: Fantastic road, we climbed serpentines to the high pass at about 1,200.m. Then going down and the rest of the way along the stream. Looks like the region is just about starting to develop with some new hotels just being started. Lovely old houses on the slopes. Green and fresh and the air that you could eat. Not a lot of traffic but a lot of potholes and never know what could be round the corner – a lorry parked precariously or a horse driven cart. We stopped a few times to have a break, a bite and look at the beauty.
Getting to Turda @ 7pm long ride for 150km.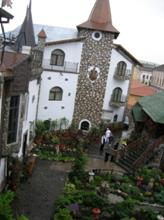 The hotel in Turda
Nice hotel to look at but be wary of the sharp objects. At the dinner when we asked for the menu item (in English) called Mexican Vegetable we got boiled pees and carrots (not a touch of chili). In the morning there was no buffet and when we ordered the cottage cheese we got the 'laughing cow' cheese.
It was fun – looked a bit like Hollywood version of Dracula Castle. There were a lot of stuffed animals – not everyone's cup of tea.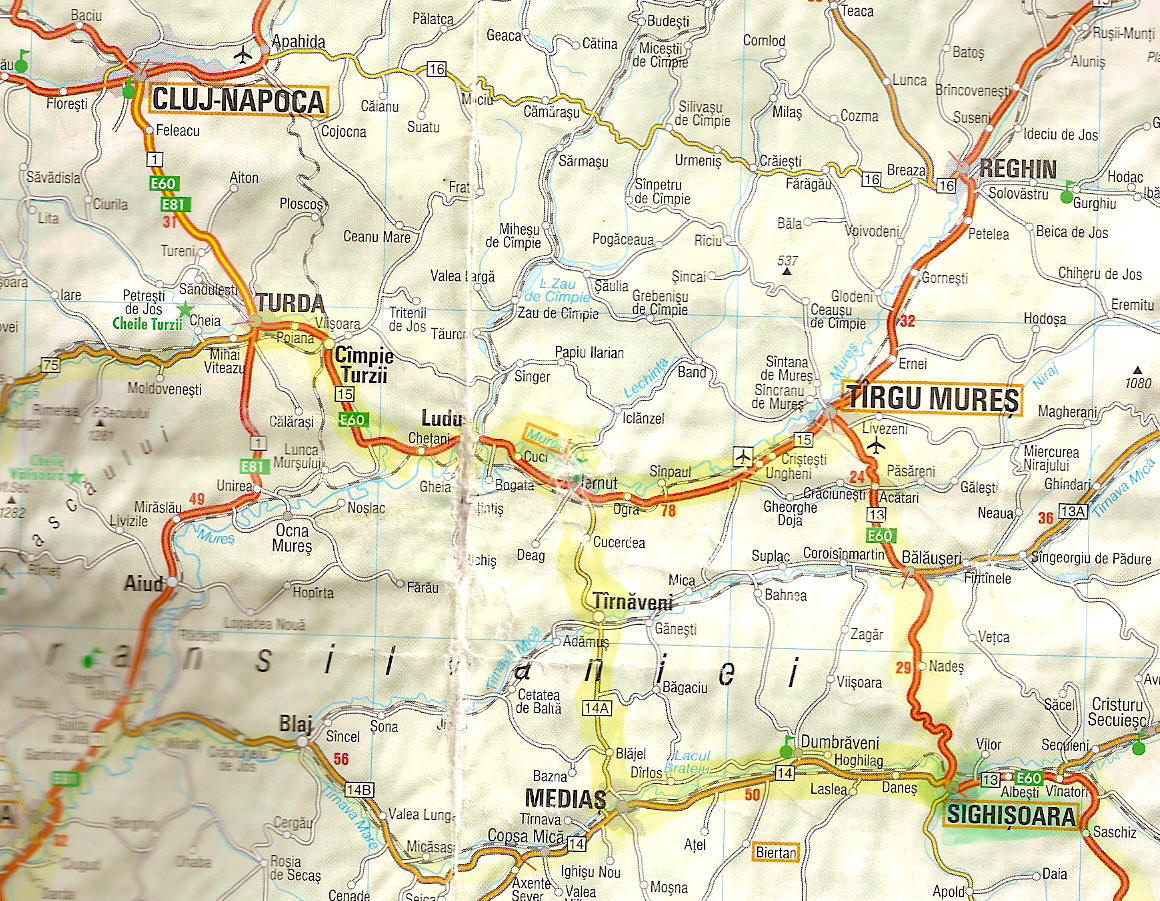 Turda to Sighisoara
Easy ride, no major attraction just a lot of anticipation to see Sighisoara again.
Arrived to Sighisoara @ 4pm plenty of time to see the place BUT Anna got a cold…
Sighisoara you actually say: See ghee swahr'ah
What a town – you drive up the hill on the small, paved road (small charge to pay to enter the town), through the gates (found out later it was one of the city nine towers – 'The Tailor's Tower) and enter the enchanting medieval town. Cobbled, hilly streets, churches, steep stairways, towers and turrets, painted houses… One of these houses is our hotel, right in the middle of the old city – beautiful building (apparently residence of the bishop until 5 years ago), comfortable room and very friendly staff; mirrors everywhere to check if anyone from your company has not changed to a vampire; restaurant very accommodating for vegetarians, no problem there. You can see the Stag House from the hotel room and other lovely houses.
See All the pictures from Sighisoara
Staying one more day in Sighisoara
Getting to know the town. It is a gem; it feels like not much has changed since medieval times (the town dates back to 12th century, most buildings, I think, are from 16th century). There is a bit of restoration done but the rest is standing, crumbling away but still strong and this gives the town that special feel of stepping back in the past. We go downtown and then just wander around the old city. We go up the Clock Tower (the other gateway to the city). It has got a working clock (apparently worked continuously since the Middle Ages) with moving, wooden figurines – there are seven figurines (Greek gods) for every day of the week and two angels representing Day and Night. At 6am the angel symbolizing day appears and at 6 pm the night angels appears with two burning candles, symbolizing the end of the working day. There are also figures of Justice and Law. The view from the top is wonderful. Then there is Vlad Dracula's House which houses restaurant (however food was overrated and overpriced) – this is where Vlad Tepes – the legendary Count Dracula – was born. There are the Scholars Stairs – they lead up the hill to the Collage. Originally there was 300 steps (build in 16th century) and intended to protect the churchgoers and children going to school in wintertime. Now there are 175 steps – it does take your breath away to climb them but the local kids are still using them and look very fit. And many, many more including our favorite – the Cobblers Tower.
In the evening we had a little show in the town square to celebrate the 50th anniversary of the European Union and the spectacular sunset.
See All the pictures from Sighisoara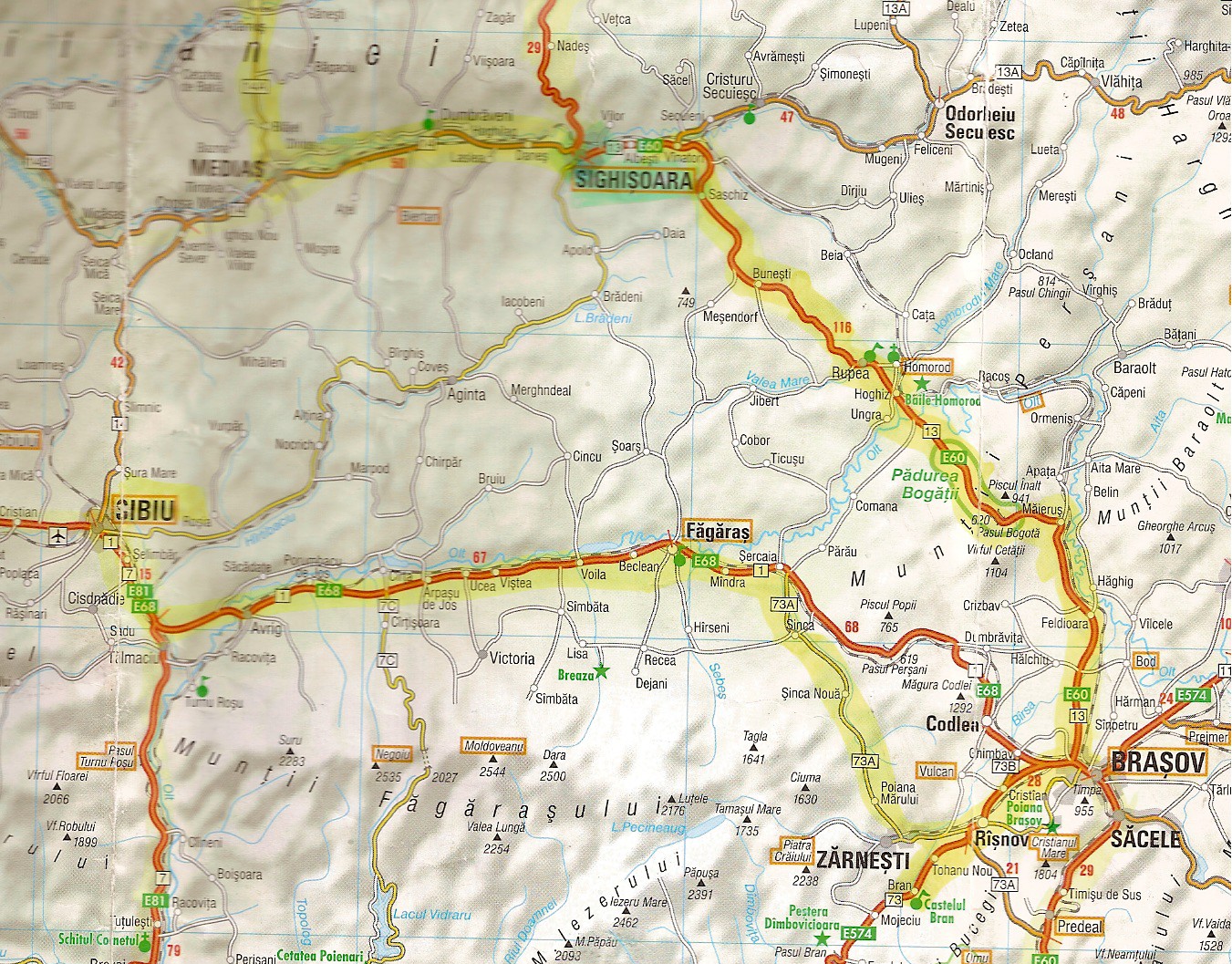 From Sighisoara to Sibiu
Very nice ride, on the way to Brasov there is a very nice National park going via downhill wood that goes forever. Did not stop at Brasov & continue to see the Very touristy Bran Castle (see pictures).
Anna: Bran Castle is very impressive but yes, touristy, medieval castle, where legendary Dracula lived. It is completely restored and turned into a museum with beautiful furniture. You are herded along marked route through the corridors and rooms of the castle. Certainly, worth to see once, but we would not be coming back; too many people.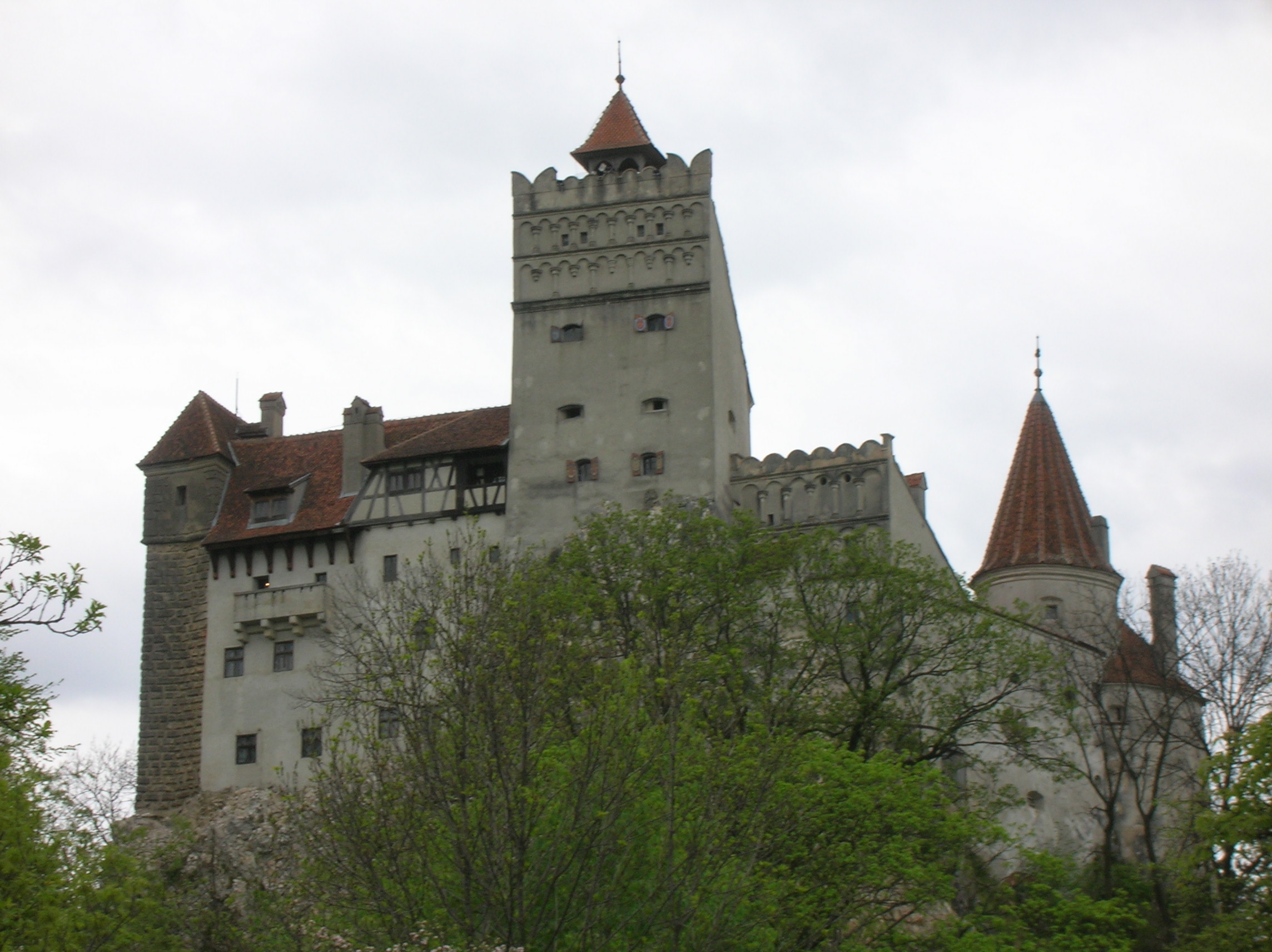 Bran (Dracula) Castle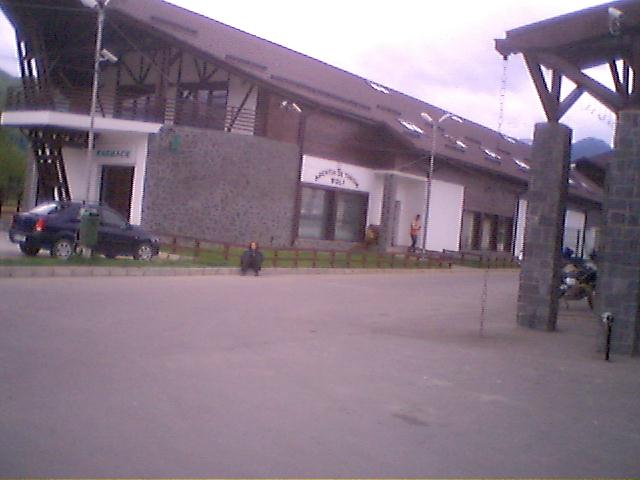 Anna not feeling too good
From there to the main road (A1 / E68) via small nice road.
The main road was a nightmare, every 10km working on the road and a traffic light which every one ignores. The whole bloody sections of the road are gone and you can meet a lorry half way through with nowhere to go – a bit of a hairy experience I rather not repeat. The hotel was on the way, about 15km from Sibiu with Jacuzzi and all the luxury. Really good meal in the evening – noodle soup (perfect for a sick person), lots of vegetables and salad (sour kraut yummy).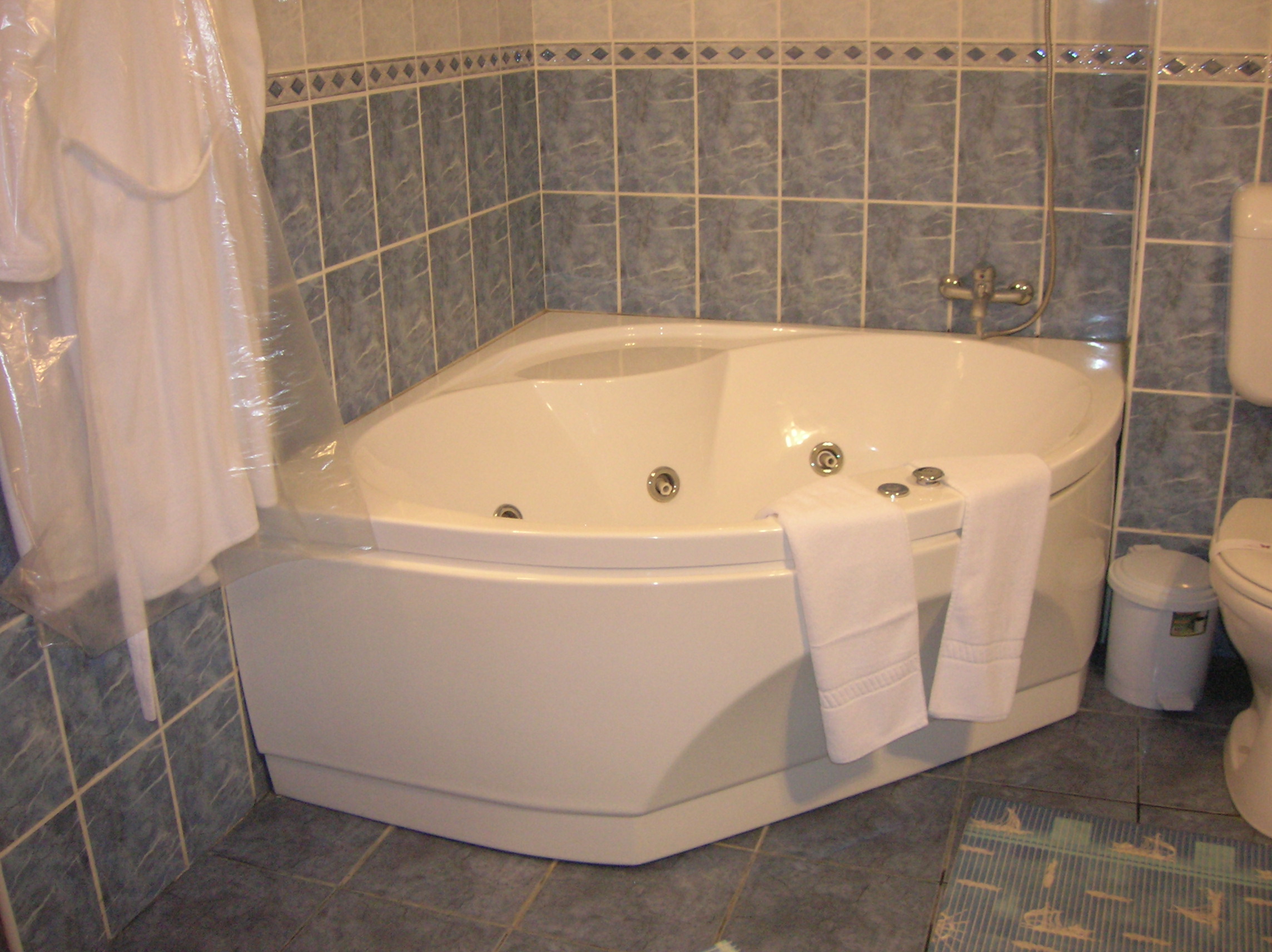 The best hotel on the trip (click on the picture to see more)
Stayed one more day to explore the area.
Sibiu is a very nice town, another 'citadel' but much larger and much more restored than Sighisoara. It is all cobblestone streets, painted houses and churches. It was apparently the first place where homeopathic laboratory was opened but I did not manage to trace it down. There are 3 lovely squares to wander around and a Bridge of Lies (that's where young lovers made their vows) – lots to do if you like museums as there is quite a lot of them. We spent there only morning as it was getting quite hot. Sibiu was 2007 cultural capital of Europe and just before we came had some grand MTV concerts.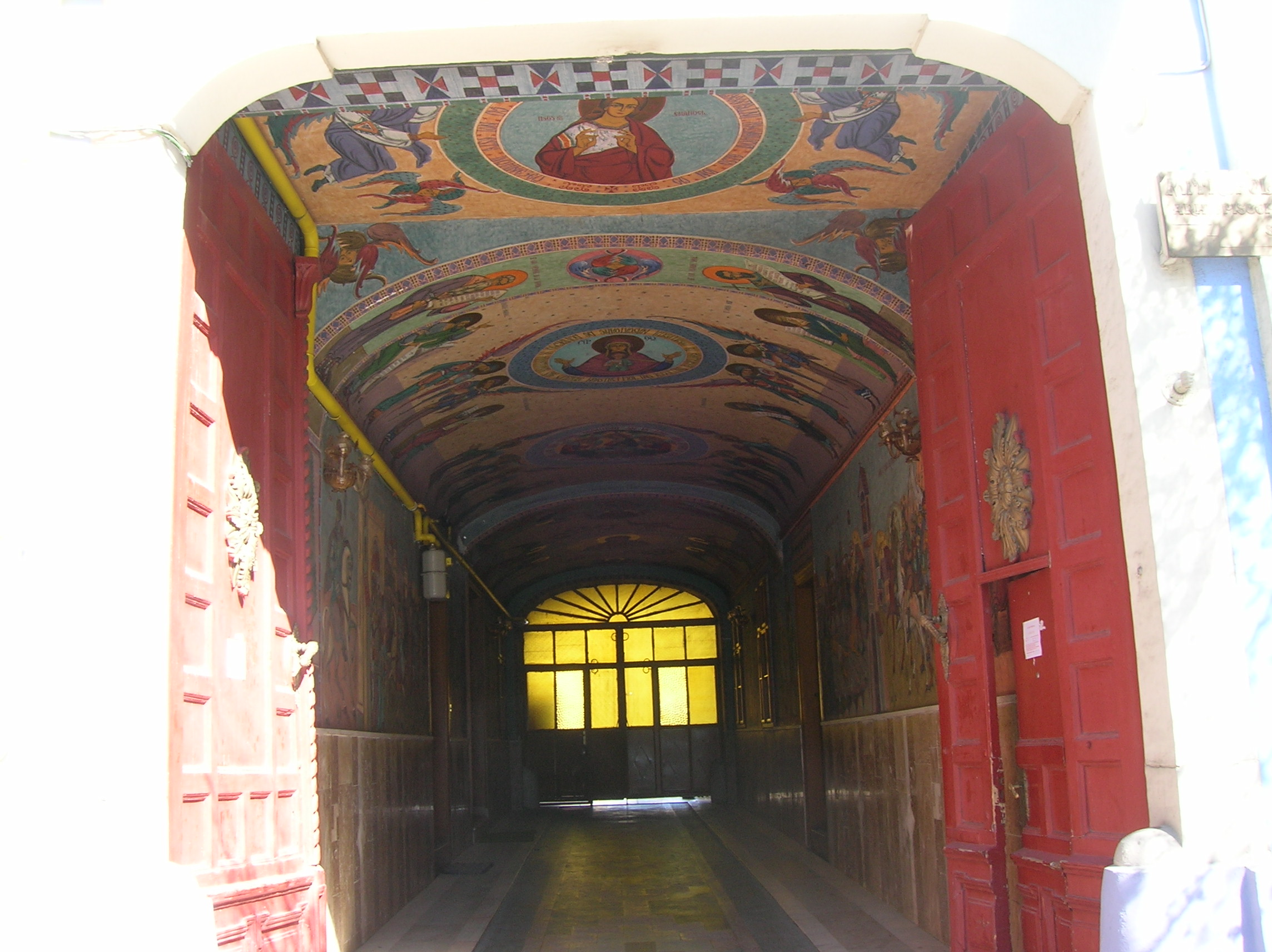 Sibiu (Click on the picture for more)
After Sibiu tried to get to Rasinari but took the wrong way and ended up in Poplaca, going via army fire test. Tried to go on the dirt road to Rasinari but had to abandoned the idea as the tyres were not the right one and Anna did not approve of this adventure. Had to go back and take the right way. The road was not fit for riding, believe me; maybe with a jeep.
It was really nice to see these villages; Poplaca off any tourist track and Rasinari good looking and apparently the richest in the region. The houses are like mini 'citadels' all walled in with the yard in the middle; women in big straw hats. From there to Cisnadioara and Cisnadie. These are another two historical villages. We managed to stop for lunch in a small place where the owner cooked us some vegetarian (mind there were some pieces of meat in the soup which we tried to feed the dog with but he refused). Bought some fruit and veg in local market and then stopped to look at snow peaked mountains. And back to the hotel for a Jacuzzi. And another lovely meal – the best tomato soup ever.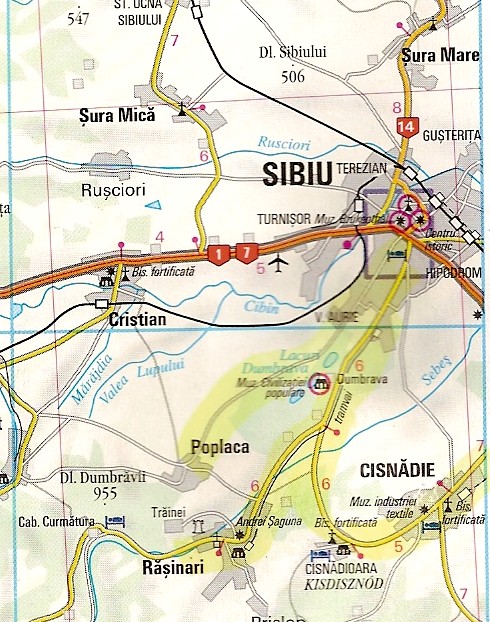 Map of the Sibiu area (day 2) - click to enrol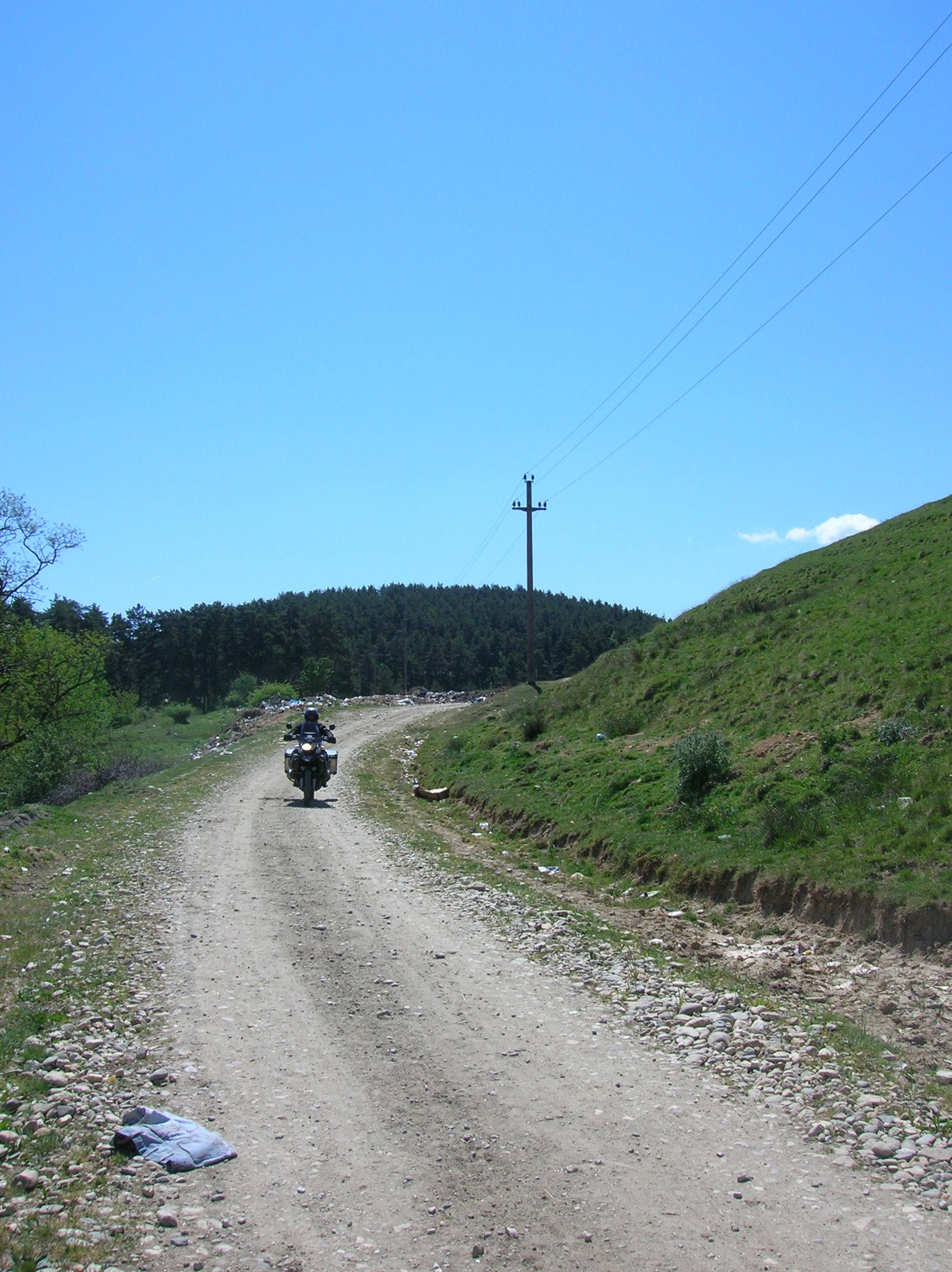 Nice riding, Tal. - Click the picture to see all the pictures
Day 8 for Anna (day 10 for Tal)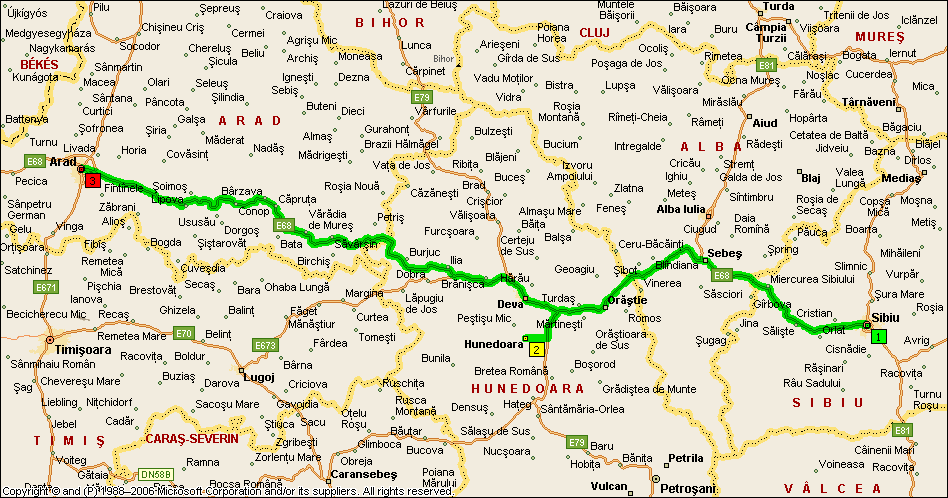 Sibiu to Arad
Nice way (see all the pictures). First, we drop in to Hunedoara. I found out the name of the place form one of the Romanian websites for motorbike tours. When we got there all we could see, were industrial, disused sites. At this point, I thought, maybe what the website said 'not to go there'. BUT... There is the most amazing, huge (the biggest in south-east Europe) and well preserved medieval castle (14th century). You can wander around through the halls, stairs and galleries without any obvious directions. Unfortunately, the town around and the landscape is really spoiled by these factories and rusting machinery. Definitely worth seeing, but not easy to find, no directions what so ever.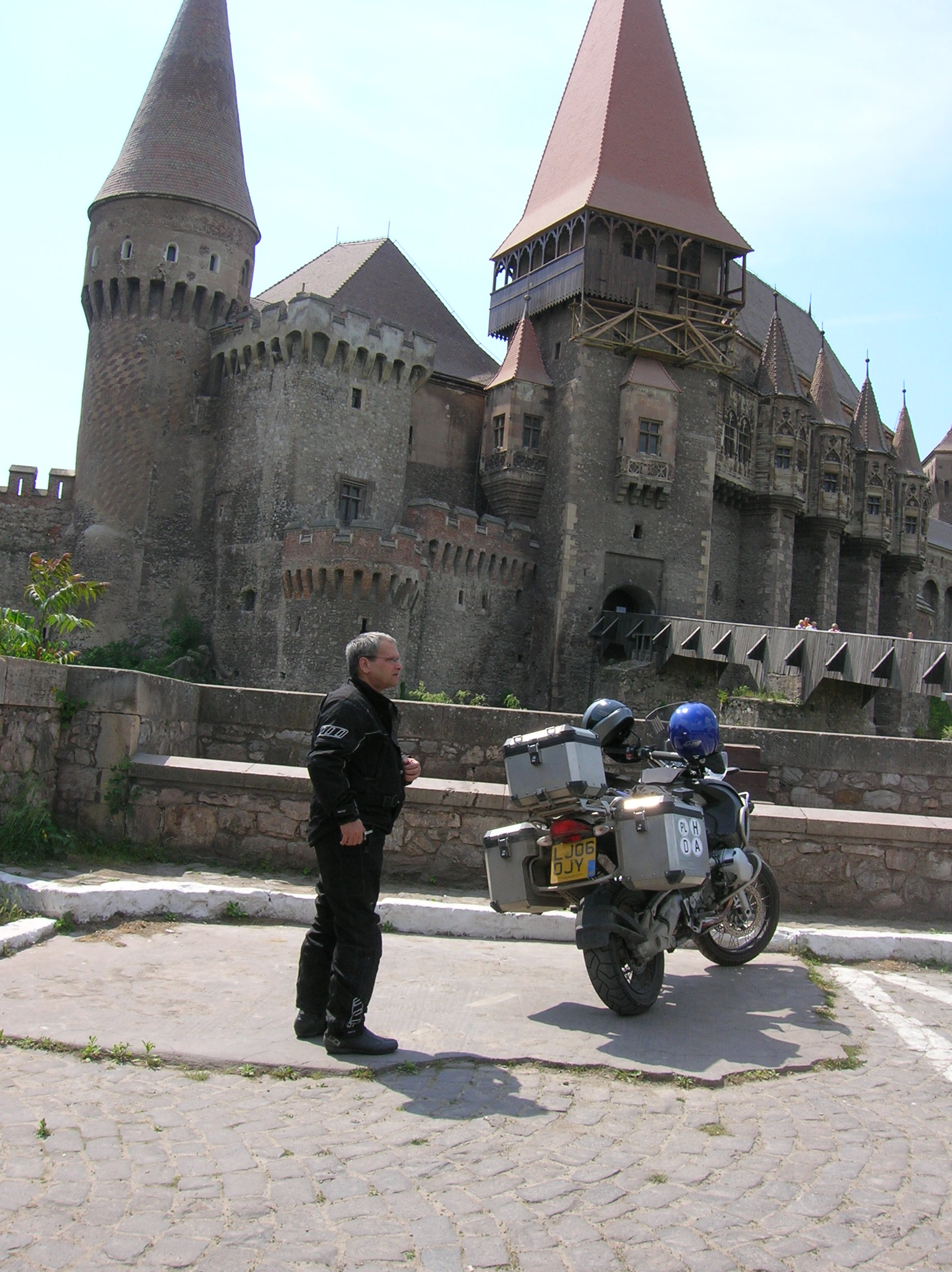 Hunedoara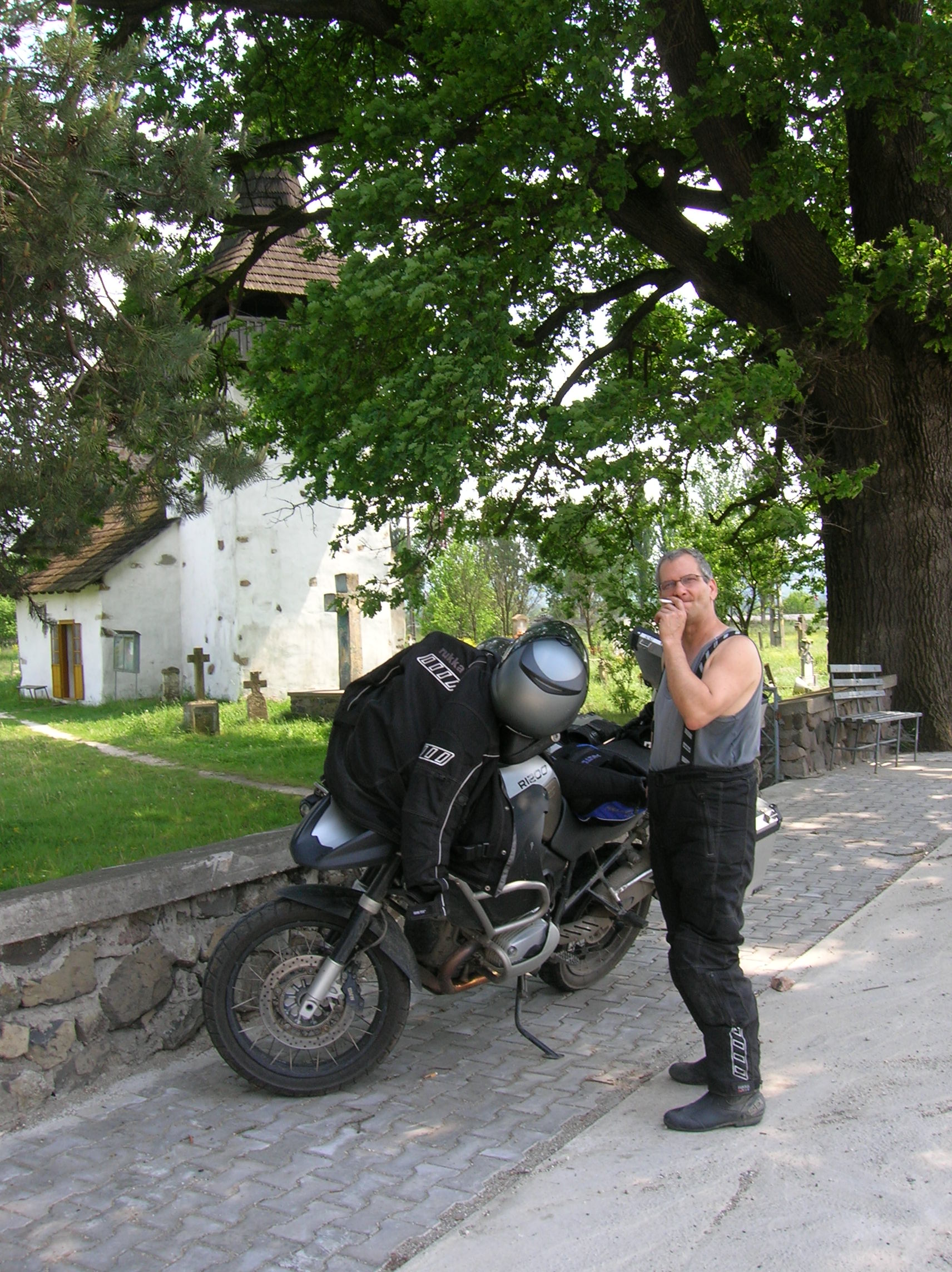 Nice church - Nice Bike - Click to see the pictures
So nice to see it just by chance – we just stopped to have a bite. The church is from 13th century with wall paintings inside.
We have no pictures from Arad – I guess after all the marvels of before we just run out of steam. Nevertheless, it is a very nice town with lots of grand buildings and river going through. We stayed in Best Western. There was a wedding party at night and we got an apartment on the other side of the building for no extra charge – could not really enjoy it, just went to sleep, so tired.
Day 9 for Anna (day 11 for Tal)
Leaving Romania … so sad.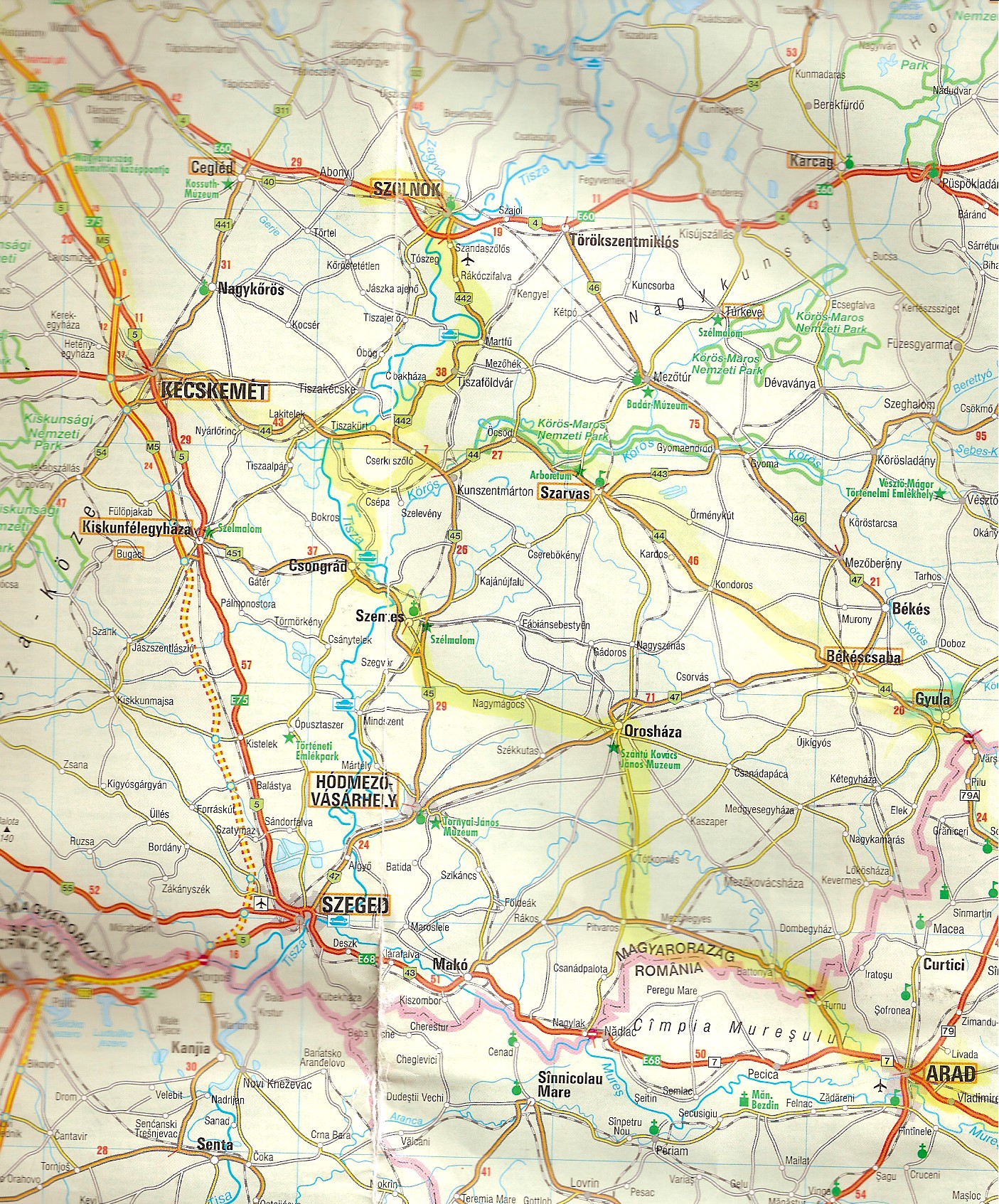 Arad to Szolnok Along the River Tisza – Click to see the pictures
Nice, small roads with lots of flowers and overpowering smell of acacia – its everywhere in Hungary. But it is too hot and we are rushing to our hotel – which amazingly is almost the same as the one at the beginning of the journey – 'communist' style. It doubles up as a student house. It's a small town with lots of students and we even managed to find a very trendy restaurant 'Jazz Bar' where they served us very sophisticated vegetarian meal (with tofu!).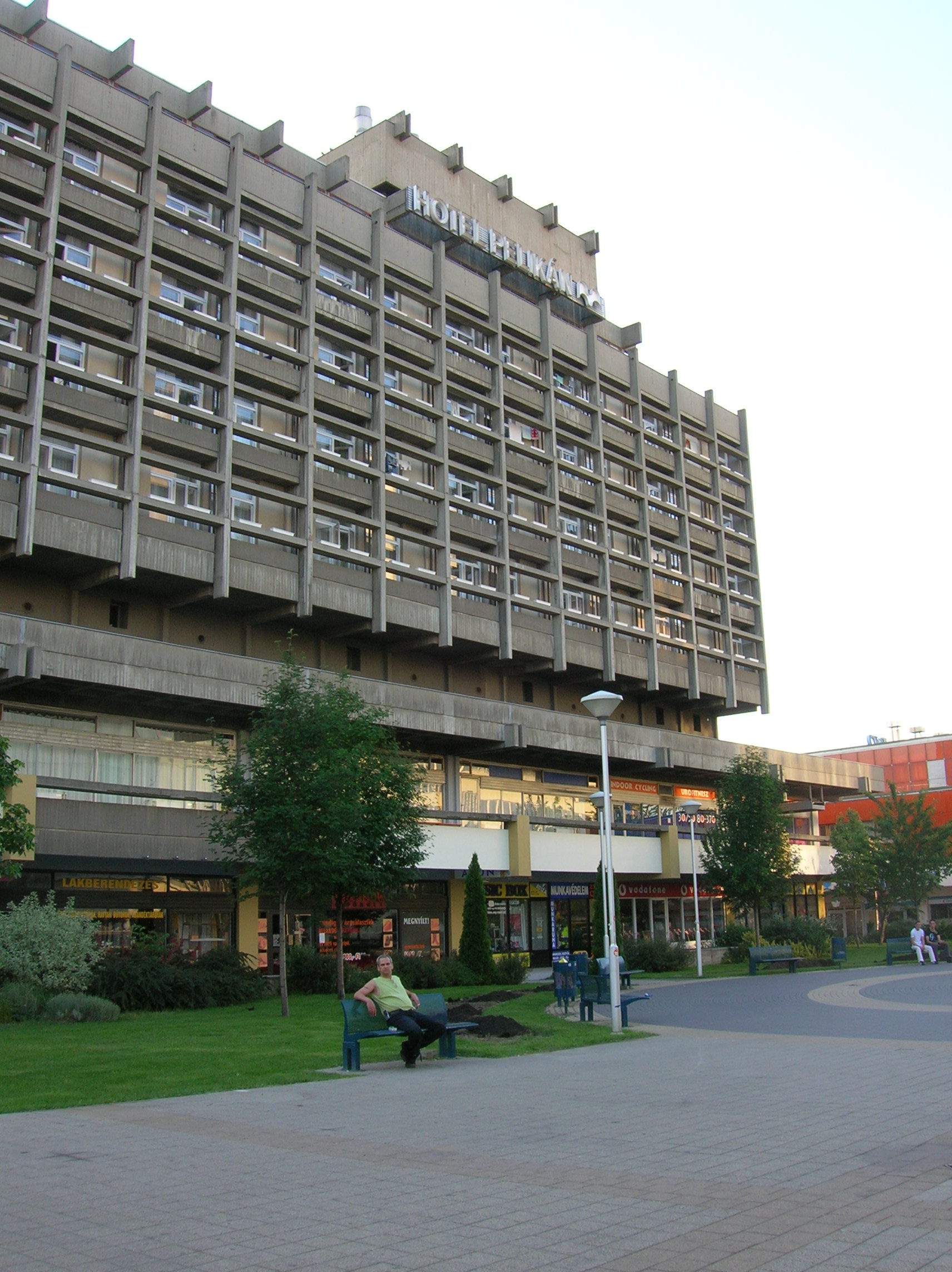 The hotel in Szolnok
Day 10 for Anna (day 12 for Tal)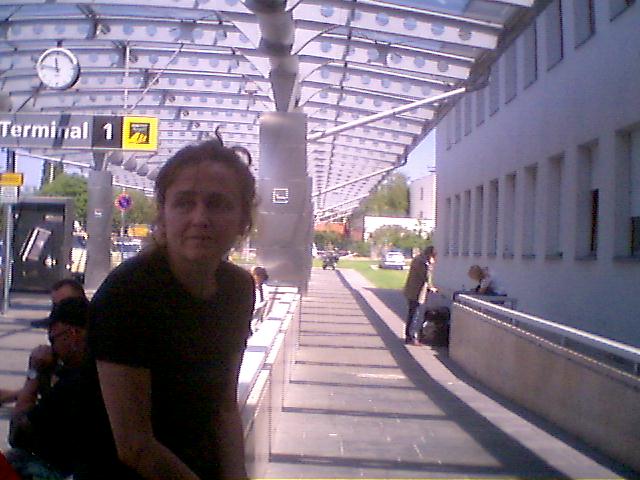 Leaving Anna @ Budapest airport
Leaving Budapest AirPort - alone again
Back home 1400 miles, the same way as coming but one less stop.
Stopping for the night in petrol station in Germany - 600 miles to my home.
And the next day all the way home..... most of the way in the rain.
All my body in pain ... do not try it again - stop for the night after 400 miles max.
What a trip!!!!